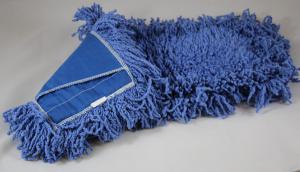 Washable Dust Mop Heads More Details
This dust mops tight twist construction help eliminate linting and fraying. Its tight twisted loop end goes all the way through backing. This allows dirt to wick up to the backing and helps eliminate crushing and matting down, which greatly enhances performamnce. Launderable.
Reviews

| No reviews for this product.
For your protection, Clean Sport uses Secure Sockets Layer (SSL) security when information is transfered over the internet. All information is encrypted when stored on a secured server