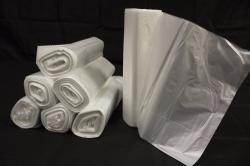 High Density Can Liners More Details
High Density Liners – Up to three time stronger and weigh half as much as low density liners. Excellent economical choice for heavy, wet trash and soft refuse. Offer superior vapor and moisture protection. Are more temperature resistant than low density liners. Liners are packed in rolls. Made from high quality plastic resin for superior strength and quality.
Reviews

| No reviews for this product.
For your protection, Clean Sport uses Secure Sockets Layer (SSL) security when information is transfered over the internet. All information is encrypted when stored on a secured server